A very large event is about to occur, which would make the Mississippi River flood of 93, seem like "opening the flood" of disasters facing the Midwest States soon to come. No person is immune, no person can escape what is going to happen at a future date for this area of the United States.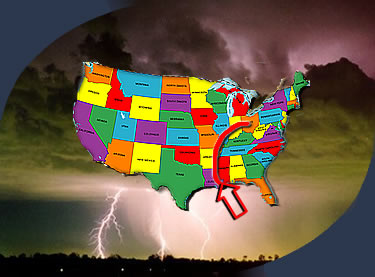 I have been reluctant and silent for many years, fearing ridicule, disappointment, despair from people, and family members but my main focus is not for glory of Mankind, but to disclosed what I know and what I have been shown.
To those people who know me the most, they know I wouldn't go ahead and post this message for personal gain, for what I have seen, is not good. I feel as a person, I have to give accountability when I stand before the throne, and if I don't say one thing I was shown years ago, I may be in trouble.
Whatever the task is laid before me, I must complete, and if I don't say a thing, I have failed miserably as a human being and as a Christian.
I saw a map of the United States in color. Around the map was gray color. Every state was a different color.
It seemed as if this map was floating before my eyes. My eyes were directed to the city of New Orleans.
I saw a very large cloud, not a hurricane, nor a tornado. This cloud was the blackest cloud I ever seen. It was alive and moving. It destroyed everything in its path as it started to move north, And yet, it headed north past St. Louis.
Then, it changed direction and Northeast it went moving along, up the Ohio Valley. It seemed to stop near the Southwest side of New York State.
Then I awoke. It wasn't the flooding of the Mississippi of 93, nor a general, typical thunderstorm a person would see.
I believe there's a earthquake coming that will bring destruction to the midwest soon. Timetable? it wasn't given.
For those who read and understand what I wrote, you will benefit knowing to be prepared for the worse. For those who read and call it "nonsense", I will understand.
With great thought, I have considered the results of putting this on paper for others to read, and I wish I never seen this vision.
Coyote | as it appeared to Richard Quick
---
Update 5-2-06
SO FAR , THE VISION HAS STOOD THE TEST, (KATRINA)
BUT THERE'S MORE TO IT. I APPEAL, I REQUEST, WHOEVER READS THESE WORDS, TO WISE-UP AND GET OUT OF THIS AREA. FOR YOUR OWN SAFETY AND YOUR FAMILIES, MOVE NORTH TO HIGHER GROUND AND ESTABLISH A LIFE SOMEWHERE ELSE.
NEW ORLEANS AND SURROUNDING CITIES WILL BE WIPED OUT COMPLETELY. I DON'T KNOW THE TIME TABLE, BUT THE WORSE IS YET TO COME.
THE MAYOR OF NEW ORLEANS WANTS TO REBUILD NEW ORLEANS, BUT EVEN IF IT WAS REBUILT, IT WON'T STAND. IT WON'T LAST.
THE EARTH IS GOING THROUGH MANY CHANGES, WORLD WEATHER IS CHANGING, AND EVEN IN THE OUTER PLANETS, THERE IS A "WARMING" GOING ON, NOT TO MANY PEOPLE KNOW ABOUT. THE "FAULT" WHICH LIES UNDER THE MISSISSIPPI RIVER HAS BEEN DORMANT FOR OVER 100 YEARS, BUT IT WILL BECOME ACTIVE ONCE MORE. SO IT GOING TO HAPPEN AGAIN SOMEDAY.
A EARTHQUAKE WILL OCCUR IN THIS AREA, AND MANY THOUSANDS OF PEOPLE WILL DIE. AMERICA WILL BE SPLIT INTO TWO.
NEW ORLEANS WILL NEVER BE THE SAME AS IT WAS PEOPLE. ITS GOING TO DISAPPEAR AND THE MAYOR IS BEING IRRATIONAL THINKING THIS CITY OF HIS CAN BE THE SAME AGAIN.
I DON'T KNOW THE TIME TABLE FOR ALL THIS TO HAPPEN, BUT I BELIEVE IT WILL HAPPEN IN OUR "TIME".
THIS GENERATION OF PEOPLE WILL SEE IT HAPPEN.
IF I HAVE RATTLED SOME PEOPLES CAGES, THEN I HAVE, MAYBE, AWAKEN YOU FROM YOUR SLEEP…
BE PREPARED…
---
Update 12-14-13
Sabbath, the day of rest.
Sleeping on the new davenport, taking a short nap.

I dreamt I was on a freight train traveling to Montana.
( i explain in each movement & event.)

I will continue.
on a train.... I notice a wildlife transport car made up of deer, mule deer, or it could have been white tail.
I entered the car, it was holding wild deer in cages and the deer looked bad.
I saw 3 deer. Each one of them had bones sticking through their hides.
This one deer was standing with his hind legs spread apart to balance itself.
Tthe deer was wobbling side to side.
His head was down below his shoulders.
I took a knife and killed the 3 deer and did a humane thing of putting these 3 down.
A game warden on the train came up to me. He said, "Why did you kill these deer?"
I said, "Because, these animals are suffering."
at this point I woke up..

There is a prophecy about the animals of the earth, turning against people on earth, killing people in revelation.
Will this be a plague coming?
12-18-13
OOC
---
Update 05-07-17
I saw women and children on a train heading out of Texas. Something very bad is going to happen in Texas, soon to break out.
I felt something like a war coming to Texas very soon.. be aware, I don't have a timetable for this event but it will happen soon.
05-07-17
OOC